Cinema HD also known as Cinema APK is an Android-based application that lets you stream and watch streaming content on demand. You can stream your favorite TV shows and movies for hours on end and not worry about paying anything. With its minimalistic interface which is so easy to use, Cinema HD is truly a pleasure to watch movies on.
It was primarily known as HDMovies app and replaces Terrarium TV which was shut down. It is a really great app that works flawlessly on Android & Firestick and has a considerable user base these days. That's why it is along with Titanium TV listed on our list of best apps for Jailbroken Firestick.
Cinema HD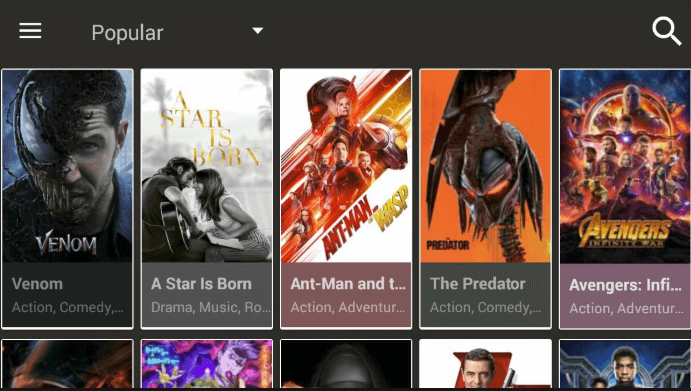 No cost: Cinema HD is a totally free-to-use app that had no hidden charges either. You do not have to pay a dime to watch uninterrupted on Cinema HD and can watch anything for however long you want.
Video Quality: Cinema HD, as the name suggests has very high-quality video streaming support. You can choose from the various available links to stream HD TV shows and movies. You can trust Cinema HD to not compromise on the video quality.
Usability: It has a really easy to use and minimalistic user interface. This is a user favorite feature because you do not have to deal with any distractions, interface-wise. It is a pleasure to use the app on your phone because of how simple and fluid it is to use and watch content on.
Supported platforms: You can install Cinema HD on any Android smartphone and even PC. Additionally, it is even better to use it on Firestick TV and Android Box because they're made for streaming.
Large content library: Cinema HD also has a huge collection of movies and TV shows you can watch on the go. It has content from around the world which you can watch anytime and never miss your favorite TV shows.
Legal Notice:

We (mykodiaddons.com) are strongly against content piracy, and we implore our readers to avoid it by all means.
---
Attention FireStick Users: Read before you continue
Your IP address 44.192.22.242, 108.162.219.18 can be seen by anyone right now. My strong recommendation is to get a reliable VPN so that you can hide your identity and protect your privacy from ISPs, Hackers, App or Addon developers while streaming online.
I recommend ExpressVPN as that is what I use, and it is the most secure VPN that you can use on your Firestick. They have 30-day money-back guarantee in case you do not enjoy their service. There is currently a special deal where you Get 49% Off + 3 Months Extra with ExpressVPN 1 year plan.
Cinema HD APK Download
| | |
| --- | --- |
| Name: | Cinema HD APK (HDMovies) |
| Category: | Movies & TV Shows |
| App Version | 2.3.1 (January 2021) |
| App Size | 28.3 MB |
| License Type | Free |
| Download Link | Cinema HD APK |
How to Install Cinema HD APK on Android
Cinema HD is a third-party app, so you won't be able to find it on Play Store. So we have to download it from any installed browser on your Android smartphone. Let's go ahead with Google Chrome. If not turned on already, we need to turn on the "Unknown Sources" feature to install apps which are not available on Play store. Follow the steps below: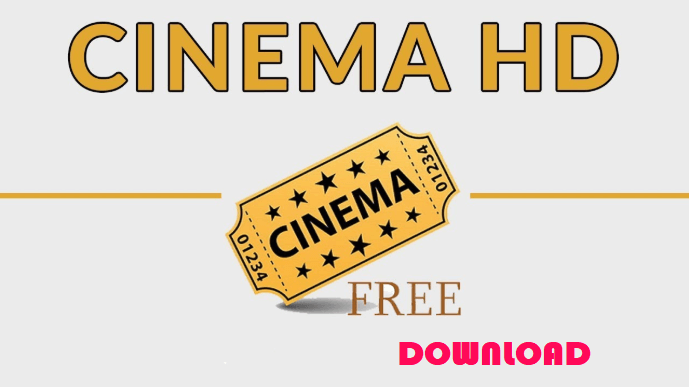 Go to the menu and click on the "Settings" icon and then to the "Security Settings".
Here you will be able to see an "Unknown Sources" option.
Click on the "Unknown Sources" option and turn it ON. Now we're good to install any app outside the Play Store by downloading through the browser.
Now to install the Cinema HD app, download the Cinema HD APK first from the above-given link. Wait for the download to finish, It will take hardly a few seconds depend on your network speed. Once after that, follow these steps to install the app on your smartphone.
Locate the downloaded file in the file manager of your device. Head over to the "Download" folder where you should be able to find the downloaded apk file.
Tap on the file once to begin the installation. It will throw up an installation screen with a prompt.
Click on "Install" to start the installation process. Now this will auto install and show the status of installation in the progress bar. It should take a couple of moments to finish the installation.
You will see a screen with a "Done" button when it's successfully installed. Click on it and we're good to go.
To start using it, locate the icon in the menu and begin using it as is after a few basic permissions.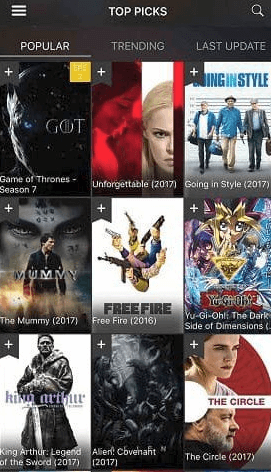 How to Install Cinema HD on Firestick TV
Using Cinema HD on Fire TV is a much better experience than a PC or Android smartphone. You can watch all the free on-demand content on your TV. Follow the steps below to install Cinema HD on your Fire TV platform:
Launch the Fire TV on, and in the main menu, click on the "Settings" icon.
After clicking on the "Settings" icon, it will show a small list of icons. Click on the "My Fire TV or Device " option depends on your Firestick version.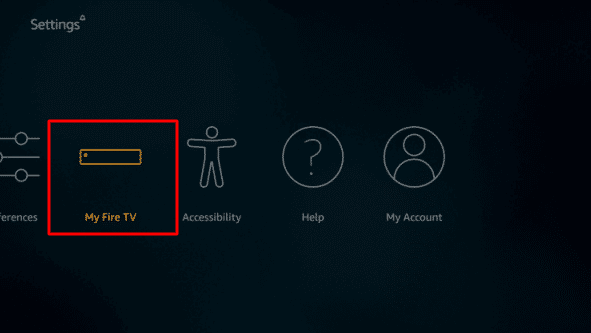 On the next screen, choose the "Developer Options" section.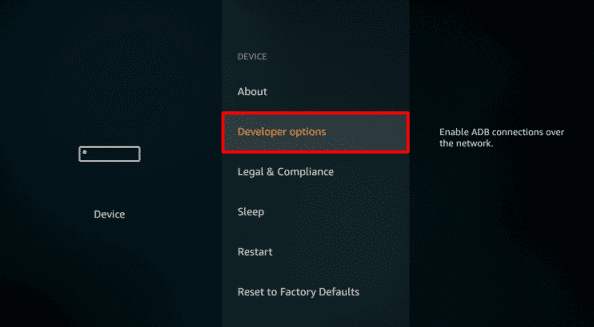 Here, toggle ON the "Apps from Unknown Sources" option. We did this to be able to side-load apps because Cinema HD is a third party app.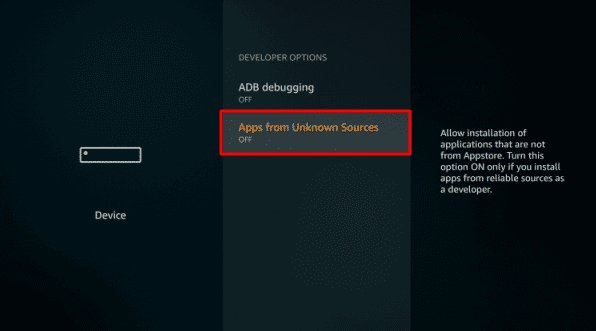 It will show a warning in the next screen which you can safely ignore and just toggle it "ON" anyway. Cinema HD is safe to use the app with no security threats.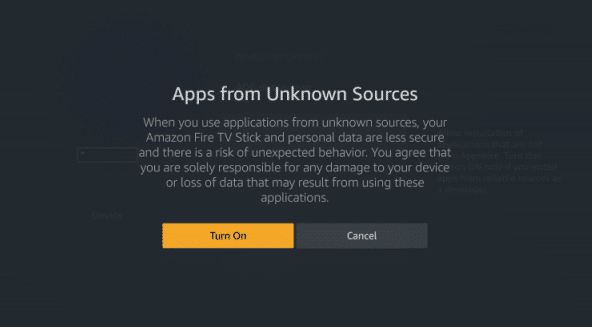 Go to the main menu and type in "Downloader" in the search menu which is available on the top left menu bar.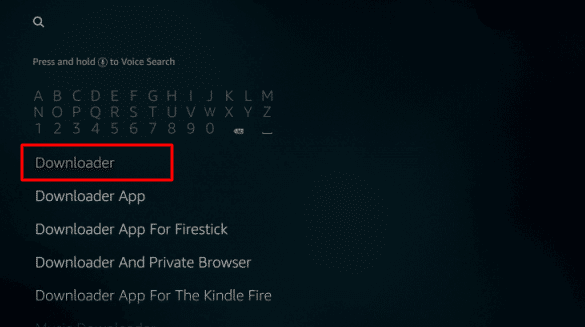 This will open a bunch of search results from which you should click and download the first app in the listings.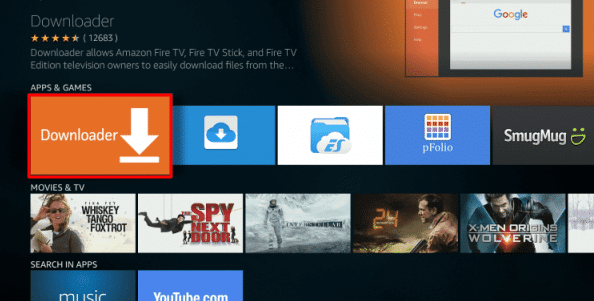 Click on the app icon and then select "Download" option. After the app has been downloaded, launch it from the menu.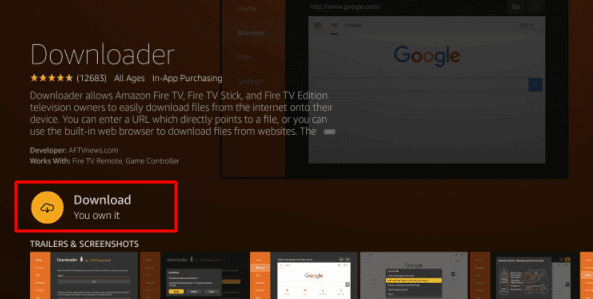 Using Downloader
Launch the "Downloader" app and it will open with a text box visible. Type in the following URL to download Cinema APK: mykodiaddons.com/cinema.apk Click on the "Go" option once after typing in the URL.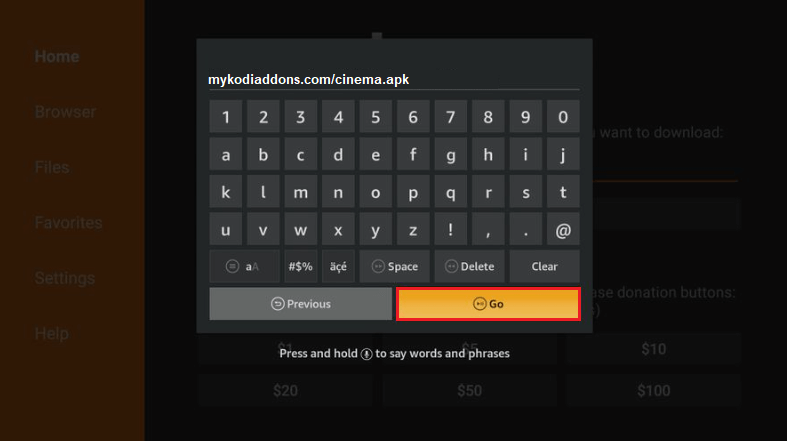 Now Cinema HD APK will start to download automatically from our server. Wait until it finish.
Once the apk file has been downloaded, click on the "Install" button. Fire TV will start installing the app automatically in this step. It won't take long and should be done in a couple of moments.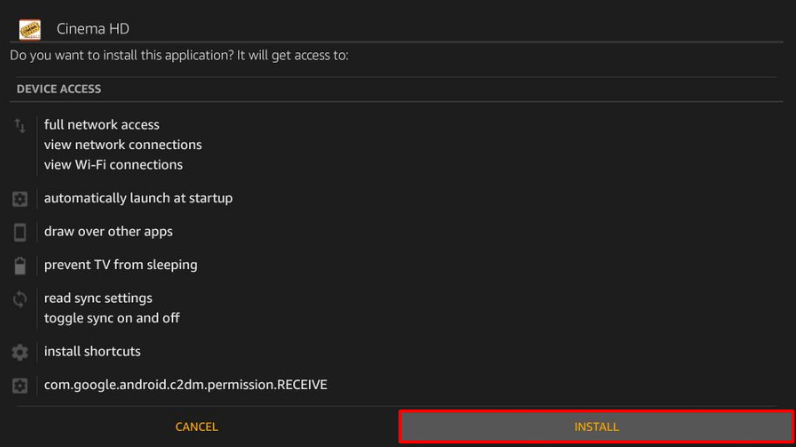 Once it has installed in the system successfully, a prompt will open with the "Done" button. Click on it and we're now good to go ahead and use the app. You can also safely delete the apk file now since the app is already successfully installed and deleting the setup will not affect anything.
Now you can locate the app in your Fire TV menu and begin using it after giving some basic permissions, that too free of cost.
How to Use and Setup Cinema HD
I guess, now you all have Cinema HD successfully installed on your device. Before you go ahead and start to use Cinema HD, We recommend integrating Real Debrid or Trakt TV for the better and hassle-free streaming experience. Real Debrid increases your viewing experience by providing numbers of HD and 1080P links.
Another thing you want to do is to set up Subtitles. You can do it through app settings anytime you need it. We have provided guide for that as well in case if you are not familiar with such settings.
Integrate Real Debrid with Cinema HD
#1: At the top-left corner, click on the three horizontal lines to access the menu. Click on "Menu."
#2: Click on "Settings."
#3: Select "Login to Real-Debrid." (Sign Up from here, If you don't have one)
#4: Memorize or write down the code you see.
#5: Visit https://real-debrid.com/device and enter the activation code.
#6: Click on "Continue," and wait for notification saying "Authorization Complete."
#7: Once you have gotten this notification, you have successfully integrated Cinema APK with Real-Debrid and Real-Debrid streams will be highlighted in yellow after you have selected your content.
Integrate Trakt with Cinema HD
If you use Trakt.tv, Cinema APK is one of the apps that you should integrate with your account. The reason is that Trakt makes it easier for you to synchronize all your downloaded content across different devices and platforms. With Trakt, you can watch your media content on different smart devices. If you would like to set up Trakt TV integration with your Cinema HD app, follow the steps below:
At the top-left corner, click on the three horizontal lines and then, click on "Menu."
Locate "Settings" by scrolling down and click on it.
Click on "Log in" to Trakt TV.
You will get a code on your screen; memorize it or copy it somewhere.
Log on to https://trakt.tv/activate on your browser and enter the code you got in STEP 4.
Click on "Continue," and click on "Yes."
You will receive a message informing you that you have authorized Trakt on Cinema HD.
Go back to your Cinema App where you will see a prompt informing you of a successful synchronization.
How to Set Mx Player as Default Player in Cinema HD
Start by installing MX Player on your device.
Launch CinemaHD and click on "Settings."
Select "Default Video Player," when you scroll down.
Click on MX Player.
After following these steps successfully, you will be able to stream content using MX Player.
How to Enable Subtitles
Sometimes, you may want to watch content that is in foreign languages and it may not come with subtitles by default. You can add subtitles by yourself in Cinema HD. Follow the steps below to do this:
#1: Play the content you want to watch and click on the dialogue button at the top right corner of the screen.
#2: Select the language you want.
#3: You will see multiple subtitle options. Choose one of them (most especially the one with the highest number of downloads.).
#4: If one of the subtitles does not work, try the others until you find one that works.
#5: Subtitles will be displayed as your content plays.
FAQs
What is Cinema HD APK?
Cinema HD is a free Android app to watch Movies and TV Shows.
Is Cinema HD Safe to Use?
Yes, Cinema HD is safe to use. Make sure you are downloading it from a trusted source like official or our site.
Is Cinema APK Free?
Cinema APK is absolutely free to use and does not require any signup.
 Is Cinema APK legal or illegal?
Cinema APK is legal to use until you are not watching copyrighted content and if you do, make sure you are using a VPN like ExpressVPN.
Can I get Cinema HD on my iPhone or iPad?
Cinema HD Officials have not released any version for iOS or iPhone yet. As of now, it is only available on Android supported device. We'll surely inform you if it happens in the near future.
Conclusion
Using Cinema HD on any device given is a pleasure because of its easy-to-use and clean interface. You can watch so many movies and TV shows on-demand and choose from the various links for each listing to get the best quality. Additionally, Cinema APK also beats the stands out from its competition with some exclusive features.
Cinema HD gives you different sources with different qualities like a 720p and 1080p HD source. With its Real-Debrid support, it becomes even more reliable in terms of quality. It also offers the option to download to your device to watch later which is something that not many others offer.
Also with each new update, you can expect some great new features. In the end, Cinema APK is a top-notch app which can help you to watch tons of your favorite Movies & TV Shows without any hassle.
Disclaimer: The applications, add-ons or services mentioned on this site are to be used at the discretion of users. We do not verify the legality of these apps, nor do we promote, link to or host streams with copyright protection. We are strongly against content piracy, and we implore our readers to avoid it by all means. Whenever we mention free streaming on our site, we are referring to content without copyright protection that is available to the public.