Hey guys, today we are back with 12 Best Kodi Builds for Firestick and Android as of September 2023. Builds allow you to create and setup your own entertainment world on Kodi. Every build comes with its own system and preference so it can work perfectly on the targeted device.
Below we have shown which build works perfect with Firestick and Android. Kodi is a huge platform for entertainment and that's why we have tons of high-quality Kodi addons and builds so we can take the next level streaming experience. We suggest to setup Real Debrid on Kodi, it helps to get more streams and will keep you away from the buffering problem.
Best Kodi Builds for Firestick and Android (September 2023)
Legal Notice:

We (mykodiaddons.com) are strongly against content piracy, and we implore our readers to avoid it by all means.
---
Attention Kodi Users: Read before you continue
Your IP address right now is 3.236.46.172, 162.158.158.144 and without VPN protection, you can be easily tracked by ISP, Hackers, App or Addon developers. This is why you should install a good VPN while streaming on Kodi to mask your identity and privacy.
I myself use ExpressVPN and it is a highly recommended VPN that you should have. It is fast, secure and easy to install on your device. If you do not enjoy the service of the VPN [It won't happen], you can ask for a refund as there is a 30-day money-back guarantee. Get 49% Off + 3 Months Extra on ExpressVPN 1 Year plan.
3. Tomb Raider
4. Smokin
6. Streamline
7. Blue Magic
9. Titanium 
10. BK Links
11. Warlock
12. Equinox
---
NOTE: Many addons from this list are 3rd party addons and not supported by the Kodi Team and so do not try to post questions related to these addons on the Kodi Official Forums. 
---
1. One Nation Portal
One Nation is the latest trending builds Portal among Kodi users for many reasons. It has various different size of builds available which helps the users to select a build by the device they use. These builds provide an extensive number of popular addons from a veteran like Exodus to latest one Exodus Redux.
Lightweight builds such as Kodi Collusion, Nebula, and Cobalt are popular builds from One Nation especially among Firestick users as that works great on any Fire device. Along with Krypton, It also includes some amazing builds for Kodi 18 Leia. Overall, One Nation is the best choice for all kind of users as it provides a variety of addons, streaming content and of course an excellent performance.
---
2. No Limits Magic :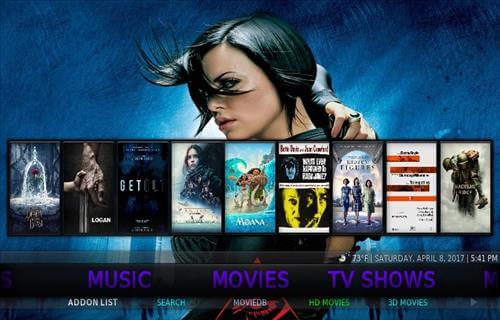 No Limit Magic, one of the most popular and best build Kodi ever produced. You will have hundreds of working addons ready to use when you will finish the setup of the build and that's why the build is so popular among Kodi community. The build has been constantly updated with the latest update from developers since the launch of build and that's what every user expects from developers.
There are many reasons behind the great success of the build but one of the main reasons is a heavy list of popular and top addons such as Covenant, Sportsdevil, Bob Unleashed, Death Streams, Maverick TV, Planet MMA and many more. Another build that works best with Firestick but this does not mean that build is not compatible with other devices, It is but we have to clarify for users who are here for a list of Firestick Builds.
Aeon Nox 5 Skin is another reason to choose the build, this amazing skin changes the build interface totally and creates magic with its features. It has various categories to choose which helps the user to make a choice fastly. Following are some popular categories: Live TV, Sports, Movies, TV Shows, Music, Kids, Networks, Bob Unleash and many more. In the end, this one is must-have type build which offers you almost everything you need.
---
3. 

Tomb Raider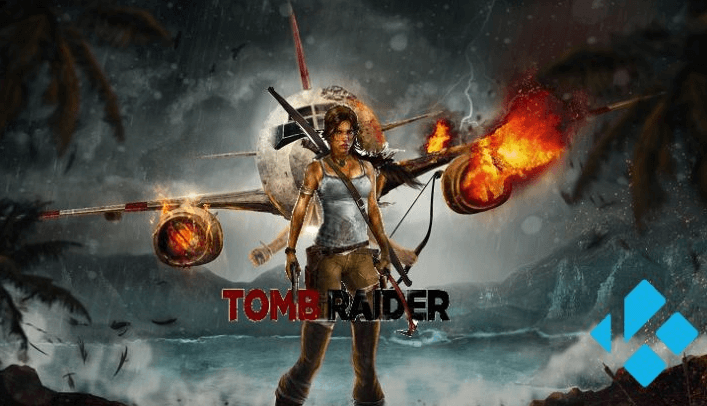 From the Maverick Repository, the Tomb Raider build is one of the largest and most comprehensive builds currently. It offers over 90 add-one at a time. There is no content you want that you will not find on Tomb Raider Build. From movies to documentaries, TV shows, and live-streamed content. It is one of the most stable builds for users who just upgraded to Kodi Leia.
This build is simple, and immediately you start the Tomb Raider build, you will get the hang of it within minutes. The home screen of the Tomb Raider builder does not look too different from the standard Kodi interface design, which means that it will be suitable for people who are only familiar with the standard Kodi.
The Tomb Raider Build is really simple, and it does not come with unnecessary complicated features or anything fancy. It delivers just as expected of a Kodi build. In this build, you will find every and any kind of add-on such as The Magic Dragon, Maverick TV, Supremacy Sports, Exodus Redux and delivers just about any content that you would like to watch.
---
4. Smokin
This build performs excellently on a wide range of devices thanks to its simple user interface. For Kodi beginners, this is the best Kodi build that they can use. It is simple and easy to get the hang of; thus, newbies can have a field day using this build. With the Smokin Kodi Build, you can load movies on Kodi with a single click. This, in turn, makes this build one that has an incredibly fast streaming capability.
Smokin Kodi Build comes with add-ons such as The Loop, Magic Dragon, Yoda, Supremacy which all have excellent performances and deliver a large database of content for users to stream. In addition, the theme used in the design of the Smokin Kodi build is that of Peaky Blinders which might, in a way, appeal to the fans of the show.
---
5. Misfit Mods Lite: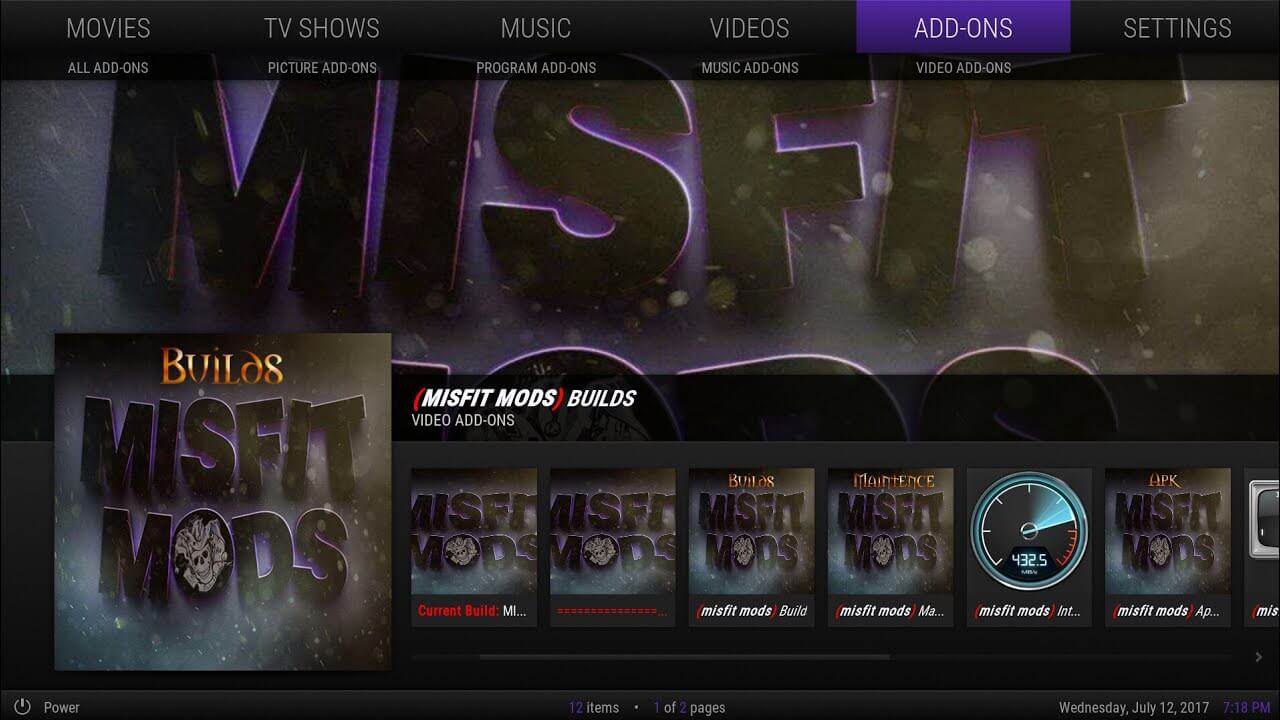 Misfit Mods Lite, Current Best Kodi Build includes pure and pure entertainment Content. This build has gained massive fan followers and popularity due to its consistent update, Lightweight, Attractive look, great content, and some top addons. Made with only one intention to provide all the best things in one build and looking at the trend, they got more than what they expected from users and experts.
Their previous build Misfit Mod was heavy in the size and that was causing freezing issues for small device users so they got their mistakes and launched Lite build. This premium looking lite build works best with Firestick and other small devices supports as well. Addons like Covenant, Bob Unleashed, Elysium topping the charts in the build. There is all kind of content including Movies, TV Shows, Music, and Live TV. Try this amazing build without any type of hesitation.
---
6. Streamline
This is another quality build with impeccable performance on Kodi 18.2. It comes with the Whiz Kid Wizard, and it delivers a good number of video add-one for your streaming needs. On the Streamline Kodi Build, you can watch your favorite Tv shows and movies, sports shows, live TV, etc. using some of your favorite Kodi Add-one like The Magic Dragon, Supremacy, Exodus Redux, Maverick TV, etc.
The size is its biggest point of attraction. Streamline works well even on devices that have low RAM such as FireStick and its design is really easy to understand and get used to. The build layout makes the important features and elements easy to access. The developers ensured that utmost attention was paid to details as even the font style, type, and size was carefully chosen to make sure that the text of the build is legible.
---
7. Blue Magic
This is an offering from Luxury Build Wizards with quite a sizable collection of Kodi video add-ons that deliver various streaming options. From the home screen of this Kodi build, you can begin to explore content categories such as Kids, Live TV, TV Shows, Movies, Sports, etc.
You can further check out the entire list of add-ons in this build where you will see some of the best Kodi add-ons such as Maverick TV, Yoda, Supremacy Sports, DeathStar, Monster Munch and many more.
---
8. Kodi Collusion
Kodi Collusion is one of the best lightweight builds available on the Kodi. Like other top builds, Kodi Collusion also offers preadded addons to use along with a great amount of Live TV Streaming. Since build does not require much space you can add this build on the list of Firestick and Android Builds. The build has an attractive interface and various categories to make navigation fast and easy to use.
Additionally, Kodi Collusion includes some of the best new popular addons which you can hardly find on other builds, some of them are Placenta, Youtube, Supremacy, and Rising Tides. All the available addons included with the latest update so you don't have to do that manually as well, If the update introduces later then it will start to update in the background when you will launch the build. You will get pin related instruction on the build so don't be bothered to find on the internet.
---
9. Titanium
Primary addon of popular Supreme Builds repository Titanium is one of the best builds available on Kodi. They have developed this build excellently and has been successful to manage every aspect. Titanium Build comes with more than 500 MB in weight but still looks light in terms of use and works smoothly with the less memory device like Firestick. Clean coded interface, catchy and attractive layout creates a great impact on users mind.
Titanium has maintained the list of popular new and old addons nicely without adding so much unnecessary content. Titanium Build popular Addons list: Neptune Rising, Placenta, Planet MMA, Bob Unleashed, The Pyramid, Sports Hub, Youtube, Mobdina and more. The build has almost all major content categories for users such as Movies, TV Shows, Sports, and its Reply, Kids, Kids, and Live TV. At last, You should not miss this amazing build unless you have something better than this.
---
10. BK Links
BK Links is new popular build from Stream Digital Repo and offers top working addons including some new popular. Following are some of them: Maverick TV, Neptune Rising, Placenta, Death Streams, Planet MMA, Verdict, Supremacy and many more. As we said earlier there are only a few builds who includes new addons and this is one of them. This build is a little heavy in terms of weight, so you might face buffering issue if you are using Firestick. However, it works perfect with the new Fire TV addition.
There is always one benefit to using heavy weight builds that they come with lots of pre-loaded content and BK Links has got the same thing. Like other builds, various categories are available on the main menu to sort the content type which are Movies, Shows, Sports, Music, 4K Hub, System, Tools and some other. This should be on your wishlist unless you are not using Firestick.
---
11. Warlock
Warlock from Warlock Wizard offers tons of feature to experience with lots of popular and working addons to use. You will get all this feature on the build which comes with around 100 MB size.
This amazing build can be best for all type of devices, especially Firestick and Android Boxes because its lightweight. The Main menus on the build are Movies, Sports, TV Shows, Documentaries, Kids & Family, Music, My Addons, Youtube and some other.
---
12. Equinox
Build from Genie TV Repo offers almost everything we need in entertainment. It has a nice collection of skin and addons to use.
You will see some popular preloaded addons on the build which includes Covenant, Fantastic, Project M, Bob Unleashed, Maverick TV, Trident, Supremacy and many more. Movies, Sports, TV Shows, Documentaries, Kidz, and 24/7 Sports are some of the main categories of the build.
---
Also Check: 12 Best working Kodi addons after shut down of Covenant 
That's all for now. I'll back with some new Useful Stuff.
Thank you.
---
Disclaimer: The applications, add-ons or services mentioned on this site are to be used at the discretion of users. We do not verify the legality of these apps, nor do we promote, link to or host streams with copyright protection. We are strongly against content piracy, and we implore our readers to avoid it by all means. Whenever we mention free streaming on our site, we are referring to content without copyright protection that is available to the public.