Kodi is an amazing open-source media player that can be installed on all android supported devices, Firestick TV, Raspberry Pi, and many more. As a streaming application, it offers a lot of entertainment options to users but sometimes we just tend to get some difficulties streaming our favorite TV shows, movies, sports channels, music, drama and so much more due to errors associated with add-ons. In this article, I will be discussing how to fix "Kodi No Stream Available Error"
This is a fully comprehensive solution, on how I have been able to fix this Kodi error associated with add-ons like Exodus Redux, Covenant, Exodus, Placenta and many more. You will also get some insights about the causes of this error in Kodi. So the following steps will get your Kodi add-ons up and running without any errors.
P.S: We always recommend our users to keep more than one app at the same time for the continues streaming experience. If one is not working, you can always switch to another one. Apps like Cyberflix TV, Cinema HD, and Stremio Addons as Kodi alternative offers high-quality Movies and TV shows.
How to Fix Kodi No Stream Available Error
Most times, the no stream available error may appear in different forms such that the videos you intend to stream may play but buffer from time to time. Sometimes, they may not even play and you will get an error message saying the movie or episode does not contain any source links. Other messages include the no stream available and the worst of it all is when the video stops playing while you are enjoying a movie with family or friends.
Add-ons do not store the data of your favorite TV shows and movies that you stream over the internet using Kodi. They only fetch streaming source links from other services using their API key such as IMBD, Trakt, and so much more. Your add-ons act as search engines through which you find TV shows, movie, music, and more to watch. So once your search does not bring back any results (links), you get the "No Stream Available" error.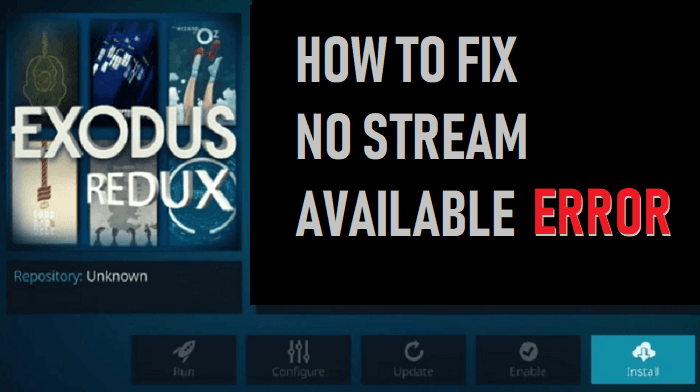 Below are some troubleshooting steps to take whenever you experience any of these errors. I have used these methods so many times and it works perfectly well for any add-ons and not just the ones I have listed above.
Legal Notice:

We (mykodiaddons.com) are strongly against content piracy, and we implore our readers to avoid it by all means.
---
Attention Kodi Users: Read before you continue
Your IP address right now is 35.172.165.64, 172.70.230.146 and without VPN protection, you can be easily tracked by ISP, Hackers, App or Addon developers. This is why you should install a good VPN while streaming on Kodi to mask your identity and privacy.
I myself use ExpressVPN and it is a highly recommended VPN that you should have. It is fast, secure and easy to install on your device. If you do not enjoy the service of the VPN [It won't happen], you can ask for a refund as there is a 30-day money-back guarantee. Get 49% Off + 3 Months Extra on ExpressVPN 1 Year plan.
Clearing Providers Caches
To make sure your Kodi application works perfectly normal just as the first time you installed it, you have to wipe the cache and providers within Kodi add-ons to remove some unnecessary and unusable files that might be affecting these add-ons thereby slowing your streaming device. To do this,
Launch Kodi
Open Exodus Redux or the addon with you are getting an error.
Click on Tools from the menu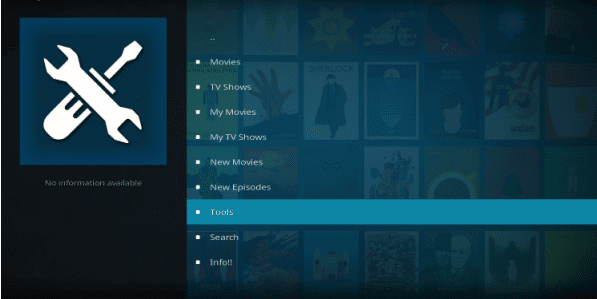 Tap on Exodus Redux: Clear Providers. Click on Yes to clear providers.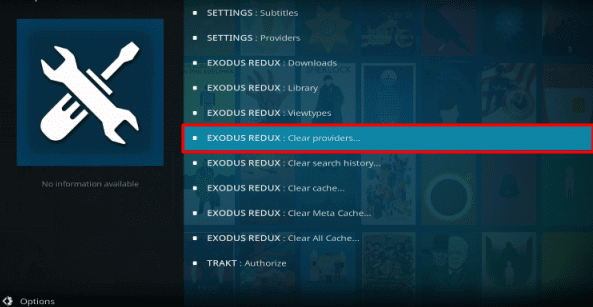 Now Click on Exodus Redux: Clear Cache. Click on Yes to clear caches.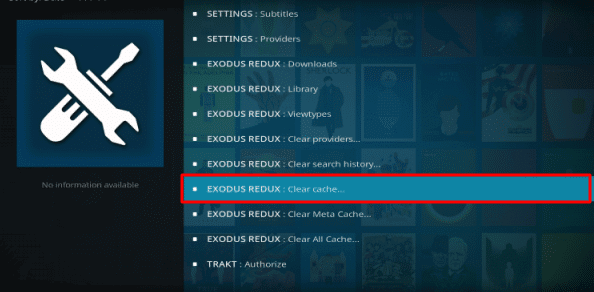 Problem with Sources
Kodi add-ons use quite a large number of sources to provide contents for your streaming pleasure depending on the add-on you may be using. Sometimes, the sources do not have links to stream older movies and TV shows, which then gives you the "No Stream Available" error. You can also get this error if you search for video contents with different titles that do not match the one from the channel sources.
In most cases, you may see links to these older movies and TV shows but they may not work because at some point it must have been removed or deleted on the internet. But you try one source and it doesn't work, try other sources to make sure its the add-on that has the issue.
Poor Internet Connection
Yes! This is another major cause of the "No Stream Available" error. You must always ensure your streaming device has a strong internet connection to avoid errors during streaming. Normally, you need a connection with at least 10 MBPS speed to stream. But the most preferred is a connection speed between 25-50 MBPS, this will let you stream video contents effortlessly without any buffering issues.
ISP Blocking 
This is also another great cause of "No Stream Available" error in Kodi. If you are streaming live events, TV shows, movies/series from other countries without a strong VPN app on your Firestick TV, etc. You are definitely being Geo-blocked, filtered or even throttled by ISPs.
You may not be able to stream content from other countries because of geo-blocking. This means your location is not allowed to watch the TV Show, Movies or live event and so on, resulting in the "No Stream Available error". Try using a strong VPN like ExpressVPN to protect your IP and information while streaming.
Updating Addons
This is generally the first and biggest cause of the "No Stream Available" error in Kodi. Even on our computers and mobile phones, with tend to update software/applications so they don't lag. This is exactly what happens when you use an outdated add-on that probably doesn't work anymore or hasn't been updated in a while.
Most times, developers abandon add-ons leaving them outdated, except if other developers work on them. Once out of date, the add-ons do not load the source links for your movies or TV shows or even work normally again. We suggest checking update of the addon you are using is available or not. If it is available, Update the addon and see the things. If not, Removing the addon would be a better option for you.
Try Other Addons
This might sound somehow to you but it works and I have tried it, which is why I am telling you this now. Check out my previous article on Best Kodi addons to use with Kodi and install, it fixes this error in other add-ons most of the times. It sounds funny but it works, by installing new add-ons helps Kodi fix other add-ons with issues.
Often check whether your add-on is really having problems by trying various TV shows, movies and so on, to see if the fault is from that particular stream you want to watch or not. If you try and other links work perfectly well, then it means the add-on probably does not have what you want
Reset Kodi
This is the last but not the least of this troubleshooting guide. After using the Kodi application for a long time, some of its extensions become obsolete and cause the "No Stream Available" error while watching live TV shows, events or movies.
Try troubleshooting Kodi by above fixes if it solves the error. if you still get the error, this means you have to reset Kodi app. Below is some useful guide if you want to reinstall Kodi.
How to Update Kodi 18.2 on Firestick
Conclusion
It is often very annoying and frustrating when you are set to watch your favorite episode, TV shows, movies, live events, etc and encounter the "No Stream Available" error. This could be before or during streaming activities in Kodi and it is most times associated with outdated Kodi add-ons, poor internet connections, broken streaming sources and links, and not using a strong VPN on your streaming device.
It can be disturbing most times, but with the above troubleshooting guide I have provided for you, I hope you have been able to fix this error and resumed enjoying your streams smoothly.
Disclaimer: The applications, add-ons or services mentioned on this site are to be used at the discretion of users. We do not verify the legality of these apps, nor do we promote, link to or host streams with copyright protection. We are strongly against content piracy, and we implore our readers to avoid it by all means. Whenever we mention free streaming on our site, we are referring to content without copyright protection that is available to the public.