In this article, I'll guide you on how to stop Kodi Buffering issue. As a very popular media player that is known across the world when it comes to streaming online, Kodi instantly converts your Firestick or Windows PC into a media center filled with a variety of content to watch. You can either watch content already on your device's local storage media or stream over the internet using add-ons and builds.
Kodi works well and is compatible with Android, Windows mobile & PC, Firestick TV, Mac OS, Linux, and iOS. Although it may sound great a deal to have Kodi on any of the supported devices, it also comes with its own challenges and issues. Most times, it is either the challenge of setting Kodi up, installing add-ons, builds and more, which many users find very difficult.
But today we are looking at the buffering issue associated with streaming over the internet. Buffering is not a good issue when it comes to streaming some of your favourite movies and TV shows from your Firestick devices. This is a very big challenge faced by so many Kodi users.
How to Stop Kodi Buffering
Nothing is more annoying and discouraging when you are trying to watch your favorite movies or TV shows and it starts buffering. In spite of these challenges, it is very difficult to see users switch to other media players because they will definitely still not like them as much as Kodi. Buffering could be an issue but just like with every challenge, there is a solution and I will be discussing those solutions in this step-by-step guide.
This will teach you how to stop Kodi buffering. So, whether you are using the latest, Kodi Leia 18 or older Kodi 17.6 Krypton, this article is for you! We will be looking at different ways of fixing this buffering issue that is associated with Kodi.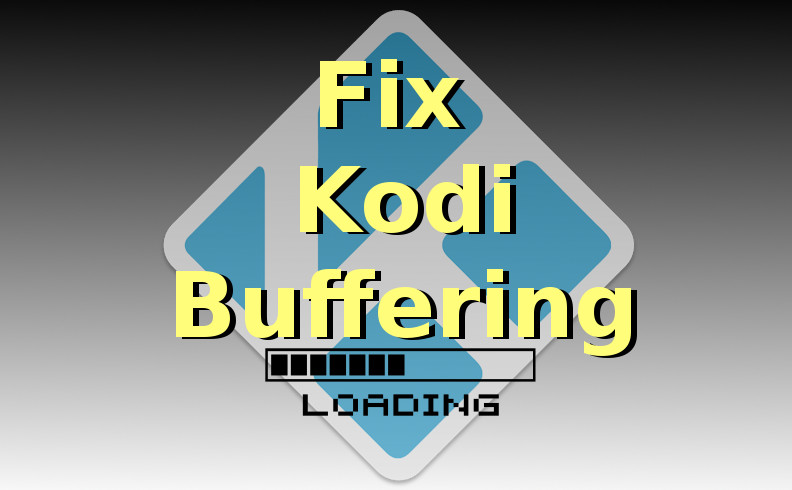 One of the ways to eliminate buffering from Kodi is a necessity for every user and it involves creating a file inside Kodi "Advanced Settings". This is just like partitioning in computers where you create space for installing software and another for media storage. Also, you should make sure to check all your add-ons if they are working properly, because sometimes buffering may be associated with bad and non-updated add-ons.
Legal Notice:

We (mykodiaddons.com) are strongly against content piracy, and we implore our readers to avoid it by all means.
---
Attention Kodi Users: Read before you continue
Your IP address right now is 35.172.165.64, 172.70.230.147 and without VPN protection, you can be easily tracked by ISP, Hackers, App or Addon developers. This is why you should install a good VPN while streaming on Kodi to mask your identity and privacy.
I myself use ExpressVPN and it is a highly recommended VPN that you should have. It is fast, secure and easy to install on your device. If you do not enjoy the service of the VPN [It won't happen], you can ask for a refund as there is a 30-day money-back guarantee. Get 49% Off + 3 Months Extra on ExpressVPN 1 Year plan.
#1 Check if your Kodi Add-ons are updated
The first thing to do is to check whether all Kodi addons are updated or not functional anymore. Sometimes, Kodi checks for updates for add-ons automatically, while in some other cases, you have to check for updates yourself. You might even know about a recent update and just install it before Kodi alerts you.
Because, if by any chance Kodi misses an add-ons update, it will malfunction and cause buffering while streaming. So, in order to manually make sure your add-ons are updated, you have to do the following:
From the Kodi home menu, scroll down and click "Add-ons".
Then click on the "Open Box Icon" at the top left corner or "My Add-ons" which is the next to last option.
Hover your mouse to the left side of your screen, a menu will appear. At the bottom, you will see the last time Kodi updated add-ons or you can just click "Check for Updates" to start a fresh search. If after updating your add-ons you still experience buffering, then check out the next solution.
#2 Creating Advanced Settings File
In this first method, I will walk you through the whole process of creating an Advanced Settings XML file within your Kodi app to fix buffering issues. This procedure works on all versions of Kodi.
We'll start by launching Kodi on your Firestick, Windows PC and so on. Then click Settings at the top left-hand side of the screen.
Click on "File Manager" within settings.
Then click "Add Source" and a new window will appear. Click "None" within the box to the left-hand side and enter this http://www.onenation.info/Portal/ and click OK.
Click the box below and type the name you want it as, but for now, I'll name it "Portal" and click OK.
Go back to the home screen. Then click the "Addons" tab on the left-hand side.
At the top left corner of your screen, you will see the "Open Box" icon, click on it and then "Install from zip file".
You'll get a prompt telling you to allow add-on installation from unknown sources with two options "Settings" and "OK". Click "Settings".
Click the toggle on the same line to the far right-hand side of Unknown Sources to turn it On.
You will see a prompt, click "Yes" which will take you back to the install from zip file page.
Scroll and click the name (Portal) you saved the link as in step 3 earlier. Then click plugin.program.onenationportal.zip.
One Nation Portal addon will start installing, wait for a few seconds. Upon the addon successful installation notification, One Nation Portal will automatically launch, click "Continue" and then "Ignore".
Go back to the Kodi home screen and click addons on the left, you'll see the just installed One Nation Portal on the right-hand side. Click to open it.
Once open, click Maintenance in One Nation Portal > OneNation Portal System Tweaks & Fixes > OneNation Portal Quick Configure AdvancedSettings > and set the Video Cache Size to the highest MegaBytes. Then click write file and that's it.
#3 Check Your Internet Connection Speed
This is one other major factor that affects Kodi while streaming thereby causing buffering issues. Normally, you need a very strong internet connection to be able to stream movies, shows, and so on. But when your internet connection starts acting up, it means you'll be faced with the dreaded Kodi buffering problem. To make sure Kodi does not buffer, check the proximity between your device and router if you are using Wi-Fi.
For those using a wired internet connection also known as LAN (Local Area Network), make sure all the cables are good and the internet speed is at an optimal level. Also, make sure no other application is using the internet connection while you are streaming and do not download heavy files while streaming either. These could be possible causes of buffering in Kodi.
#4 Using VPN to Stop Kodi Buffering Issues
Well, this is yet another method just in case the #2 solution didn't work for you. Internet Service Providers often distort downloads for a lot of Kodi users or other streaming apps. VPNs on the other hand help to boost your download speed because it runs your streams through other servers across the globe while also hiding your identity. This helps you to shield yourself from ISPs and the government from knowing what your streaming activities online are.
If you do not use Kodi with any VPN service, you won't be able to download and install some applications from the Amazon App Store but by using a strong VPN app, you can side-load those apps easily. Since ISPs sell traffic logs and user data to marketers, advertisers and so on; it is very important you protect yourself and ExpressVPN is a strong VPN service I would recommend to any Kodi user.
#5 Using Real-Debrid to Stop Kodi Buffering
Using Real-Debrid requires you to have an account that you can use to sign in and configure it in Kodi. Below are the steps to take:
Register an account with Real-Debrid from here & you will get a free trial as a first time user and thereafter you pay for the premium subscription. If you have an account already, just sign in.
You need a URL resolver installed in Kodi and to do so, you have to install either of these third-party add-ons (Exodus or Elysium) which come with it.
On the Kodi home screen, click the cog icon to go to the settings.
In settings, click systems settings then go down to the bottom and switch from Basic, Standard, or Advanced to Expert settings.
Move your cursor to the Add-ons tab on the left-hand side and click Manage Dependencies > URL Resolver > Configure > Universal Resolver.
Scroll down and find the settings with the name Real-Debridon the right-hand side, you will see "Priority" set at 100, change it to 90.
To make sure changes are saved, click Done and then OK.
Again, click configure > Universal Resolver and go to Real-Debrid settings then click "Re-Authorize My Account" and a code will be provided for you. Get the code from your email and go to the http://real-debrid.com/device site where you will input the code.
Once pairing is successful, your Kodi buffering issues should stop. If not, try the next method.
#6 Check Kodi Video Scale Settings
Video scaling could cause Kodi to lag during streaming activities, and it is sometimes mistaken for buffering. So, basically what happens here is that by default, Kodi is set to scale videos and if scaling is set to a very high percentage, it may cause streams to hang. A higher scaling percentage means Kodi will have to scale a low definition stream to high definition which might stretch the videos.
The best thing to do is simply go to settings:
Then click "Player" on the second row of options.
Scroll down to the bottom left corner where you'll see a "Cog" or "Gear icon" click until you see "Expert".
Scroll back up and click "Video" still on the left-hand side and carefully scroll down to "Processing". You will see "Enable HQ scalers for scaling above", to the far right on the same line, click the down-facing V to reduce the scaling to 15% or %10. If this works then, High-Quality scaling was the cause of your buffering issues.
#7 Using Clear Cache to Fix Buffering on Kodi
This is one other cause of buffering when streaming content on Kodi. By clearing the Kodi cache memory, you will have eliminated most of the junk files and folders that are not functional and unwanted. To clear the Kodi cache memory, you have to go through the One Nation Portal which we have used in the #1 method.
The One Nation Portal has a tool that helps remove all unwanted folders, files and so on from Kodi. You can install One Nation Portal if you do not have it on your device using the #1 method above. So, to clear the cache, follow these instructions:
Click the "Add-ons" tab on the left of the Kodi home screen.
Then click (OneNation Portal) Maintenance > Cleaning Tools > Clear Cache > Clear Cache again.
To completely get rid of the junk files, folders and more from your device, click the Total Clean Up option. This will totally clean up the cache files, thumbnails, and more from your device to increase speed. To do so, you have to click the "Total Clean Up" under the "(OneNation Portal) Cleaning Tools" option then click on "Clean All".
Conclusion
The above methods are very effective when it comes to fixing the dreaded Kodi buffering issue. But in some cases, they might not be the cause and you may be required to carry out other measures like checking your internet speed and making sure it's up to 10mbps. This might sometimes also cause buffering when streaming on Kodi.
Also, you may want to upgrade your modem, make sure there's no interference between your Kodi device and the Wi-Fi router, or a lot of devices connected to the Wi-Fi connection; if so, disable all and see. I am very positive after doing all of this troubleshooting, you will have solved the buffering in Kodi.
Disclaimer: The applications, add-ons or services mentioned on this site are to be used at the discretion of users. We do not verify the legality of these apps, nor do we promote, link to or host streams with copyright protection. We are strongly against content piracy, and we implore our readers to avoid it by all means. Whenever we mention free streaming on our site, we are referring to content without copyright protection that is available to the public.