With Kodi dabbling with legal battles and several addons issues it is time to know about the Best Kodi Alternatives. Kodi has landed into several legal affairs in a short span of time. One of the major reasons why the authorities are hell-bent of limiting if not restricting Kodi is the inclusion of third-party addons.
These additional inclusions into the main software allow for the streaming of pirated content directly through the torrents. And Piracy is not favored all around. A simple error with a Kodi addon means that you would have to reinstall it. Keeping in mind these and other issues, here are the best 6 alternatives to Kodi just for you. The apps listed below are compatible with almost all devices. Smart TV users make sure to check Best Samsung Smart TV Apps.
Best Kodi Alternatives (November 2023)
From past few years especially after Exodus went down, Kodi seems like a lost cause. Several problems have been reported like addons are not working, sudden app crashes, buffering issues with streams. These issues are frustrating and they take a lot of time and research to be fixed. All of this takes the fun out of Kodi and forces to find Kodi Replacement. So, here are the best Kodi alternatives which can match if not exceed the expectation set upon by Kodi.
Legal Notice:

We (mykodiaddons.com) are strongly against content piracy, and we implore our readers to avoid it by all means.
---
Attention Kodi Users: Read before you continue
Your IP address right now is 35.172.165.64, 162.158.155.37 and without VPN protection, you can be easily tracked by ISP, Hackers, App or Addon developers. This is why you should install a good VPN while streaming on Kodi to mask your identity and privacy.
I myself use ExpressVPN and it is a highly recommended VPN that you should have. It is fast, secure and easy to install on your device. If you do not enjoy the service of the VPN [It won't happen], you can ask for a refund as there is a 30-day money-back guarantee. Get 49% Off + 3 Months Extra on ExpressVPN 1 Year plan.
1. Stremio
2. Cinema HD
3. Cyberflix TV
4. Plex
5. Emby
6. Media Portal

Stremio
Amazing dashboard, informative home screen, and an attractive user interface. These are the three features that best describe Stremio. Starting from the first step, you need to make an account (which is fairly easy) on Stremio.
Plus, it has a few additional features than our subject streaming service. Its functionality to add subtitles, and view the casting information makes it a little better than Kodi.
A big difference between Kodi and Stremio is that none of the Add-Ons in Streamio are added on your computer. And that is why Stremio is the best Kodi alternatives and is the first choice of a lot of users.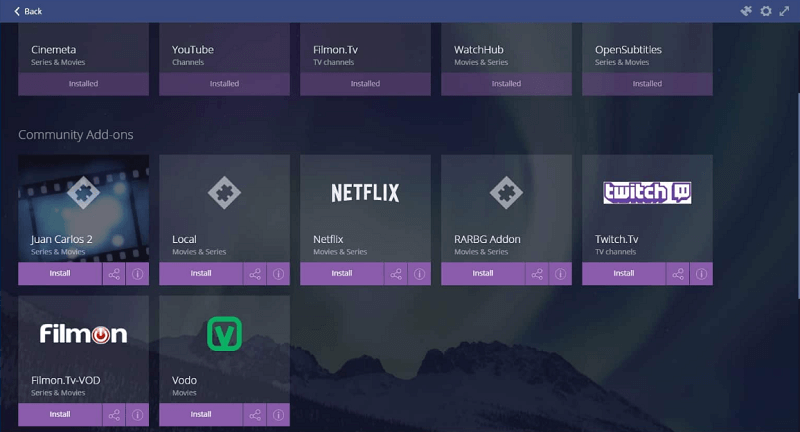 More importantly, Stremio provides high-quality links to your video, TV show or even a movie. Plus, except Youtube, Stremio will redirect you to the add-on's website. This makes it even more secure and safer as it won't share your login details with any of these online platforms. It has a feature where you will be notified on the dashboard itself about the arrival of the next episode of your fav TV show. (And I reckon GOT is not anymore on that list).
Cinema HD
Cinema HD is on the list of best alternatives to Kodi because it only streams HD content, hence the name. Consider it as a bridge between HD movies spread all across the web and it connects you to the right link.
Another amazing feature is the extent of its library. CinemaHD has a big library. Above that, it is updated frequently. The interface is where differences arrive. Some say it is too simple and for others, simplicity is its best feature.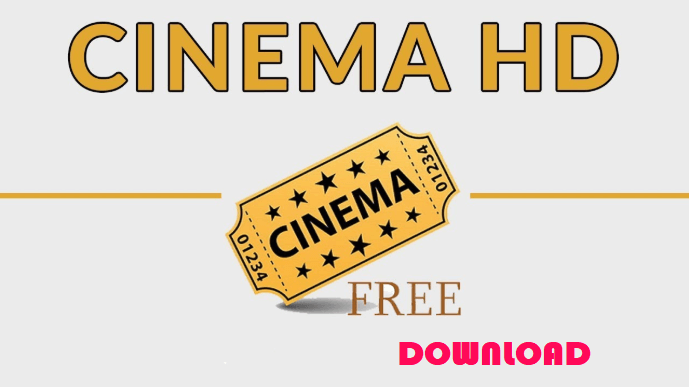 Cinema HD is the best Kodi replacement even though its usage is restricted to Android devices. This is because it can be connected with Firestick devices. This provides a similar experience of viewing your desired movies and TV shows on the big screen as it is with Streamio.
After a recent update, a number of additional features have been added. This includes the integration of Youtube and other online streaming services like Netflix and Hulu. This makes Cinema HD an all in one streaming service on the lines of Streamio but better. Always use a VPN service with Cinema APK.
Cyberflix TV
Yet another best alternative, Cyberflix TV represents a good collection of media. There are a lot of movies and TV shows ready to be streamed online. The process is similar to that of Cinema HD. It acquires the content from authentic service providers before running them on your device.
You can certainly use it with Firestick and connect it with the TV. More importantly, Cyberflix TV has a simple and interactive design. There are no mixed-up dashboards at all.
It supports multiple languages for subtitles and has HD quality content ready to be streamed. Cyberflix TV also doesn't require much storage space. It is easy to use and operate and that is all that matters. Isn't It?
Plex
With Plex, you can load your locally stored media on multiple devices simultaneously over the same network. This amazing aspect alone makes it the next best Kodi alternative in 2023.
There are two versions of Plex, the free and the paid subscription. It can run on almost every operating system starting from Windows to Roku and everything in between. And this includes Linux too.
It is also said that Plex is the closest you can come to using Kodi as it has many similar features. What's better in Plex is the amazing home theatre system enabled user interface. This gives you direct access to your own media library. And will let you manage it from the main screen.
On the security side, Plex is made secure by DigiCert. A US-based digital Security organization. Plex has also added support for free ad-supported movies streaming.
Emby
Similar to Kodi, Emby is also open-source.  The best part first, it has parental control which is made possible through DLNA home devices connectivity. Everything that you wish to do with your phone (not iOS), TV, router, PC, and tablet is connected through DLNA. 
What puts it in this list is the live TV feature and the DVR recording capability. While streaming content you can also search for subtitles, something which comes included in other similar platforms.
Emby is available to use on almost all the media devices that we operate. Even better is that it will transcode the files as per the device on which you wish to play. That way, Emby becomes a smart media streaming service.
The premium version of Emby does have features like server restore and some additional content viewing options.
Media Portal
Currently, this media streaming service is only available for Windows operating systems. But there is nothing stopping it from being one of the best Kodi replacements.
It does not have a limit when it comes to playing media content from your hard drive. Blu-rays, DVDs, and whatnot. Plus, it can stream radio, podcasts, and live music from various channels.
Turn your TV or home theatre into a custom movie cinema with Media portal. And that's not all.  There are a lot of add-ons available for this streaming service, which are there to only improve your user experience.
---
Also Check: How to Jailbreak Firestick
That's all for now. I'll back with some new Useful Stuff.
Thank you.
---
Disclaimer: The applications, add-ons or services mentioned on this site are to be used at the discretion of users. We do not verify the legality of these apps, nor do we promote, link to or host streams with copyright protection. We are strongly against content piracy, and we implore our readers to avoid it by all means. Whenever we mention free streaming on our site, we are referring to content without copyright protection that is available to the public.