In this article, I will be talking about one spectacular feature that comes with Kodi and it is known as "Kodi Airplay." Kodi is the ultimate home entertainment theatre and it is way more than just a media player that plays music, movies, and so on. Kodi is your personalized video content library that you can use to watch movies stored on your device or from open-source media streaming sites online.
Kodi requires addons to unleash its full features, but you can still enjoy this application even without these addons. In as much as you will be able to use Kodi without add-ons, it is still a great idea to turn things up a notch by installing these top addons to widen your streaming possibilities.
Kodi Airplay
Well, for those of you hearing about Airplay for the first time, it was first developed as a highly secure protocol by Apple for mirroring multimedia contents between Apple (iPhones, iPads, iPods, iMac, etc) and other supported devices. Apple initially called it "Airtunes" which allowed mirroring audio files within Apple devices. As technology advanced, it was later upgraded to mirror not only audio contents but pictures and videos as well.
The good news is, Kodi Leia Versions include the Airplay feature which allows users to mirror their Apple device's media files unto the Kodi Player for their viewing pleasure. So, if you are a proud user of Kodi Leia and you wish to stream movies, music, view photos and more from your Apple device, then you have to enable the Airplay feature within Kodi settings.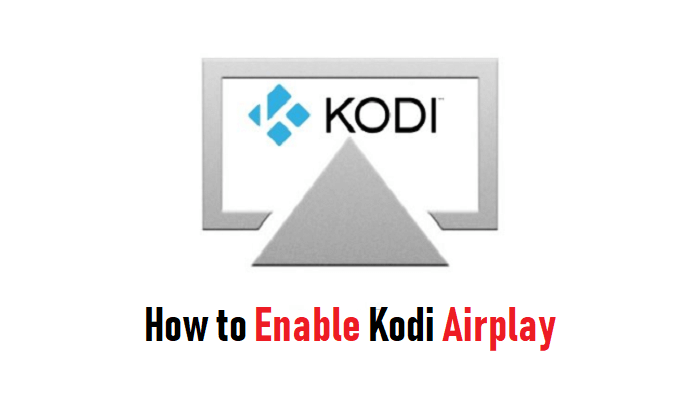 By enabling airplay on Kodi, you will be able to share media contents from your iOS devices through your home network on Kodi. I will be giving you everything you need to know about enabling Airplay on Kodi.
Enabling the Airplay option of Kodi Leia is pretty much very easy, but you must follow the steps exactly the way I will be explaining below. The first thing to do is to enable Zeroconf which makes your Kodi device discoverable to any device you want to use for mirroring when you search for Airplay target.
You also have to enable AirPlay Password which will help protect your data with password protection anytime anyone tries to use Airplay without your consent.
Legal Notice:

We (mykodiaddons.com) are strongly against content piracy, and we implore our readers to avoid it by all means.
---
Attention Kodi Users: Read before you continue
Your IP address right now is 3.236.46.172, 172.70.114.165 and without VPN protection, you can be easily tracked by ISP, Hackers, App or Addon developers. This is why you should install a good VPN while streaming on Kodi to mask your identity and privacy.
I myself use ExpressVPN and it is a highly recommended VPN that you should have. It is fast, secure and easy to install on your device. If you do not enjoy the service of the VPN [It won't happen], you can ask for a refund as there is a 30-day money-back guarantee. Get 49% Off + 3 Months Extra on ExpressVPN 1 Year plan.
How to Enable Kodi Airplay on Leia
First, launch your Kodi Leia
In Kodi's main Interface, click on "Settings" or the "Gear" icon at the top left
Click on Services from the available options.
Under Service Settings, click General on the left-hand side and to the right, you will see "Zeroconf"
You will see "Announce Services to other Systems", click the switch to the far right to turn it on
Once enabled, go to the AirPlay Tab on the left-hand side below the "General" still under Service Settings
Make sure you are on AirPlay Tab, then click "Enable Airplay Support" to active the option
Under Enable AirPlay Support, click on "Use Password Protection" then using the on-screen keyboard, enter a strong password you can remember
Once you are sure of the password you have entered, click OK to set it as your default password anytime you want to use AirPlay
If you have not enabled Zerconf, you will encounter errors while trying to enable AirPlay Support on your Kodi Device. It usually reads "Failed to start AirPlay as it requires Zerconf to be enabled." Do not panic when you see this error message popup, it only means you did not enable the "Zerconf" option which allows you to search AirPlay from your iPhone, iPad, iPod and so on.
It is very important that you always turn on the Zerconf option first before enabling AirPlay Support. This will make AirPlay work smoother and better for you.
Conclusion
Kodi is one of the best media players for streaming media contents online and also watching videos from your local storage drives. But technology has made everything easy, with the development of AirPlay by Apple has made streaming and watching your favourite TV shows, movies, and music easier.
You can easily connect your mobile device to the Kodi using the AirPlay feature to broaden your entertainment options. I hope this article has been helpful to you, leave your comments below, follow our social media pages and subscribe to our newsletter for more information.
Disclaimer: The applications, add-ons or services mentioned on this site are to be used at the discretion of users. We do not verify the legality of these apps, nor do we promote, link to or host streams with copyright protection. We are strongly against content piracy, and we implore our readers to avoid it by all means. Whenever we mention free streaming on our site, we are referring to content without copyright protection that is available to the public.