Here we'll talk about Best Apps for Android TV Box. Since Google launched the Android OS, the operating system has been used in various models and brands of smart devices. In 2014, Google developers launched the Android TV device. Asus then went on to design the Nexus Player, which is the first Android TV device. And from then, different smart TV models running on the Android OS have been released to the market.
Suddenly, there was a surge in demand for Android Smart TVs, and a short while after, streaming devices were launched to enable those without smart TV to stream content. These devices turned regular televisions into smart televisions.  Since then, these devices have continued to gain grounds. Some examples of these devices that enabled regular TVs to stream content are Android TV box, Firestick, Nexus Player, Fire TV Cube, Nvidia Shield, Google Chromecast, etc.
Best Apps For Android TV Box
In this article, we will focus on Android TV box and the best apps that you can use on it if you own one. Once you get your Android TV box and you are looking for apps that you should install on it, the below-listed apps are our top recommendations so you can get the most out of your Android TV box.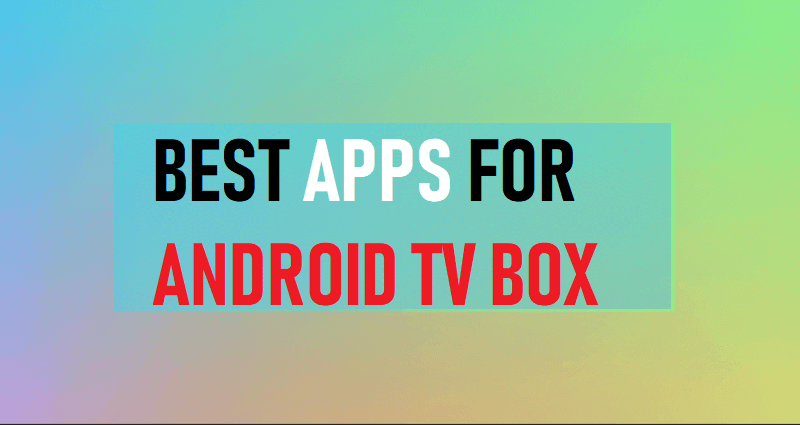 Netflix
Netflix easily makes the top five streaming platform in the world. What many people use Android TV box for is to stream content over the internet on their normal (Non-smart) television. And Netflix as a top streaming service is a must-have for everyone. Netflix offers thousands of movies and TV shows, including its own original TV shows and movies.
You cannot but have the Netflix app on your Android TV box so you can keep up with some of the best entertainment content from different genres. Netflix is a premium service, but its packages are quite affordable.
Kodi
Kodi is known globally as an open-source media player application that delivers movies, TV shows and other entertaining content to users. It is a popular app among users who own smart TVs and streaming devices. You can download and use Kodi for free.
However, for you to be able to watch your favourite TV shows and movies on Kodi, you will need to install some add-ons which do the work of crawling streaming links from various sources. This is one of the apps that you should have installed on your Android TV box so you can stream movies and TV shows.
Legal Notice:

We (mykodiaddons.com) are strongly against content piracy, and we implore our readers to avoid it by all means.
---
Attention Kodi Users: Read before you continue
Your IP address right now is 3.236.46.172, 172.70.114.165 and without VPN protection, you can be easily tracked by ISP, Hackers, App or Addon developers. This is why you should install a good VPN while streaming on Kodi to mask your identity and privacy.
I myself use ExpressVPN and it is a highly recommended VPN that you should have. It is fast, secure and easy to install on your device. If you do not enjoy the service of the VPN [It won't happen], you can ask for a refund as there is a 30-day money-back guarantee. Get 49% Off + 3 Months Extra on ExpressVPN 1 Year plan.
Cyberflix TV
This is somewhat similar to Netflix, but while Netflix is a paid service, Cyberflix TV is completely free. Another major difference between these two is that Netflix has more categories of videos and a larger database. That should be expected because it is a paid service. But for people who do not want to pay, Cyberflix is a worthy alternative to Netflix. Morpheus offers movies, TV shows, New, Sports shows, Kiddies shows, etc.
Cyberflix TV became the most sought after streaming application after Terrarium TV got shut down. Even its dashboard is in a way similar to that of Terrarium TV. Install Cyberflix TV on your Android TV box, and you will gain access to thousands of TV shows and movies.
Google Chrome
Your Android TV can be used for a lot of other things apart from streaming movies and TV shows, and one of those things is browsing the internet. Google Chrome is one of the best internet browsers that you should install on your Android TV Box to access your favourite sites. It is secure, advanced and fast. It also supports HTML and JavaScript codes.
MX Player
MX Player is the most popular application in the world of Android users. It is the most popular media player app as it comes with a lot of impressive features that other media players do not have. MX is, as a matter of fact, the most downloaded media player application on the Google Play Store. It supports all video and audio format, and if we have to recommend a video player that you should install on your Android TV box, it will be MX Player.
The app also supports internet-based streaming. So, when streaming with apps like Cyberflix TV, you need a media player like MX Player to play the videos. It also adds subtitles to any movie or video that you are watching. It fetches the subtitles from the internet and inserts it into the video.
Popcorn Time
Popcorn Time was initially designed for iOS users.  Later, it became available for the Android OS. Within a short time, it gained a lot of users, and it became a favorite amongst Android users and Android TV box owners. Popcorn Time is a BitTorrent client that has a media player integrated into it. Popcorn Time is an excellent app choice for your Android TV box to stream both movies and TV shows.
TV Player
If you would like to watch live TV channels on your Android TV box, TV Player is the app that you should install. It gives you access to watch live UK Free-view channels which include BBC 1, BBC 2, BBC 3, BBC 4, BBC News, BBC, Red, CNN, ITV, etc.it is also totally free to use, and you can use it in any country.
ES File Explorer
You need an app to manage and organize the files on your Android TV box, and ES File Explorer fits perfectly. It is a useful app for managing and storing your files on the Android TV box. You can also download directly from the internet using ES Explorer. With ES Explorer, you can move, copy, rename and delete files. You can also extract compressed files with the app. It has a feature which you can use to manage files stored in the cloud through SFTP and FTP.
Plex
This app helps you to manage your files and apps across different devices. Plex is a popular app useful for those who have more than one device and wish to access their files from any of these devices. So, if you have an Android TV, Firestick, PC or any other smart device,
Conclusion
The apps we've discussed above are some of the essential apps that you should have on your Android TV box. None is more important than the other, but you should never underestimate the importance of a strong VPN. Your privacy is important. Only a VPN can help you maintain that privacy whenever you are using a streaming box to stream on the internet.
Disclaimer: The applications, add-ons or services mentioned on this site are to be used at the discretion of users. We do not verify the legality of these apps, nor do we promote, link to or host streams with copyright protection. We are strongly against content piracy, and we implore our readers to avoid it by all means. Whenever we mention free streaming on our site, we are referring to content without copyright protection that is available to the public.