Latest Kodi News : You may remember that the Premier League received an injunction from the High Court earlier this year, letting it target websites, IPTV channels, and Kodi plugins that illegally re-broadcasted Premier League football games to people.
While it was not 100 percent effective, there were visible consequences as a large number of high profile streams were taken down on match days. Now UEFA has a similar deal, meaning it can instruct UK ISPs Sec to block this stuff on its behalf. This will start from February 2018 and will continue until end of May 2018.
---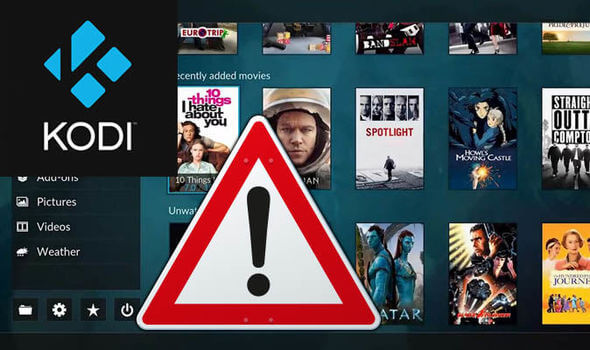 Legal Notice:

We (mykodiaddons.com) are strongly against content piracy, and we implore our readers to avoid it by all means.
---
Attention Kodi Users: Read before you continue
Your IP address right now is 3.236.46.172, 172.70.114.165 and without VPN protection, you can be easily tracked by ISP, Hackers, App or Addon developers. This is why you should install a good VPN while streaming on Kodi to mask your identity and privacy.
I myself use ExpressVPN and it is a highly recommended VPN that you should have. It is fast, secure and easy to install on your device. If you do not enjoy the service of the VPN [It won't happen], you can ask for a refund as there is a 30-day money-back guarantee. Get 49% Off + 3 Months Extra on ExpressVPN 1 Year plan.
The blocking is also done in real time, which means ISPs can take down streams as and when they appear even if that's right in the middle of a match. So it's not like certain torrent sites that can flip a switch and end up on a new domain a couple of hours later.
When that temporary injunction ran out, the EPL went back to court for a new one, valid for the season that began in August.
After what appeared to be a slow start, the effort began to produce significant results, blocking thousands of Internet subscribers from accessing illicit streams via websites, Kodi addons, and premium IPTV services.
UEFA first had to obtain permission from the High Court. That came in the form of an application for injunction filed by the organization against ISPs BT, EE, Plusnet, Sky, TalkTalk, and Virgin Media.
It demanded that they "take measures to block, or at least impede, access by their customers to streaming servers which deliver infringing live streams of UEFA Competition matches to UK consumers."
In other countries, ISPs have defended such cases but in the UK, the position is very different. All providers except TalkTalk actually supported the application, with BT, Sky, and Virgin filing evidence in its favor.
The only real difference is that UEFA's injunction contains "an additional safeguard" against over-blocking, which deals with sending so many different IP addresses to ISPs that certain servers end up being blocked by mistake.
Citing two big rulings from the EU Court this year (one involving The Pirate Bay, the other cloud-recording service VCAST), Mr Justice Arnold said that evidence filed by the Premier League showed that a similar order had proven "very effective"
People reliant on pirate streams for their football-Soccer fix will continue to experience issues, with many having no other choice than to resort to VPNs to access blocked streams.
Sources based on Gizmodo Via Torrentfreak.
Disclaimer: The applications, add-ons or services mentioned on this site are to be used at the discretion of users. We do not verify the legality of these apps, nor do we promote, link to or host streams with copyright protection. We are strongly against content piracy, and we implore our readers to avoid it by all means. Whenever we mention free streaming on our site, we are referring to content without copyright protection that is available to the public.